Slipper ptfe Composite seals
ROD SOK

SOK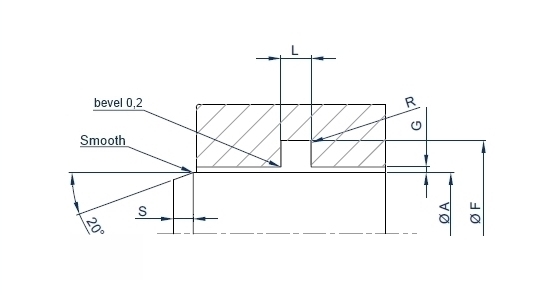 Housing
class
A
rod diameter range

F
groove diameter
L
groove width
R
S
min
G*
max. radial gap
suggested
available
pressure BAR
f7
H9
H12
50
100
200
400
800
S1
20-39,9
20-50
A+10
5
0,4
4
0,8
0,7
0,5
0,4
0,2
S2
40-79,9
40-100
A+15
7,5
0,4
7,5
0,8
0,7
0,5
0,4
0,2
S3
80-209,9
80-250
A+20
10
0,4
7,5
0,8
0,7
0,5
0,4
0,2
S4
210-309,9
200-500
A+25
12,5
0,4
10
0,8
0,7
0,65
0,5
0,25
S5
310-509,9
250-700
A+30
15
0,8
12
0,8
0,7
0,65
0,5
0,25
S6
510-699,9
400-1200
A+35
17,5
1,2
12
0,8
0,7
0,65
0,5
0,25
S7
700-1200
500-1200
A+40
20
1,2
12
0,9
0,8
0,7
0,5
0,25
G*=G1+G2+G3
G1 = Max. initial clearence
G2 = Clearence by elastic deformation of the components under pressure
G3 = Clearence due to the forseen wear of the guiding elements
Coding example
profile code SOK
rod 100
housing class S3
materials: Neuflon 031 O-Ring NBR
Slipper SOK - 100 - S3 - N-031 - NBR
SLIPPER COMPOSITE SEALS ASSEMBLING INSTRUCTIONS
ASSEMBLY ON PISTON IN CLOSED GROOVE AND IN OPEN GROOVE

Assembly in closed groove can be carried out manually, however the use of the appropriate equipment guarantees the integrity of the slipper and time-saving insertion.

Assembly in open groove is suggested for slippers exceeding the dimensions shown in dimensional table.

Correctly carried out introduction blunting and the lubrication of the surfaces make assembly easier.

For an easier assembling in closed groove the preheating of the Slipper in oil or water bath at 90-100°C is suggested.
INSERTION AND RECALIBRATION EQUIPMENT FOR INSTALLATION IN CLOSED GROOVES ON THE PISTON

The expander cone brings the Slipper to the diameter of the piston, or to the edge of the groove when other existing grooves must be passed over.

The thruster expands sector by sector, or more simply, in single logitudinal cutting.

Both the cone and thruster can be made in acetal resin (POM), polyester (PBTF) or polyamide (PA6)

The prolonged extended permanence of the Slipper during installation could determine a permanent increase in diameter; therefore fast installation is advised.
Recalibration of the slipper may be opportune using a sleeve before insertion of the piston in the cylinder.

The sleeve also allows the passing over of grooves and threads.
INSTALLATION ON THE CYLYNDER IN CLOSED GROOVE

The Slipper seal can be introduced in the closed groove imposing a reniform deformation.


The radius R should never be little then 3 times S

Open groove installation is advised for rods exceeding the diameter shown in dimensional table.

The mono-directional R type Slipper is
installed using this method of positioning
the seal-front towards the pressure.
SURFACE FINISH ACCORDING WITH FLUID
application
max Ra µm
dynamic surface
max Ra µm
static surface
CRYOGENICS
0,1
0,2
FREON
HELIUM
HYDROGEN
0,2
0,3
AIR
NITROGEN
ARGON
METHANE
FUELS
0.2
0.4
WATER
OIL
0.3 - 04
0.6
ROTARY SEALS
Shaft surface

Ra 0.2 - 0.3 micron max.
Rz 1.0 - 2.5 micron max.
R max. < 4 micron
Shaft hardness

55 HRC min. for pressure up to 5 bar
60 HRC min. for pressure > di 5 bar
60 HRC for speed > 4m/sec
Surface treating deep

0.3 mm min.
Click compound's code to download the .PDF data sheet. Registration required.
HD Slippers
code
Composition

Color

Approvals
ΔT °C
Description
N-020
Virgin PTFE

white

FDA
NORSOK

-268 +260
All pourpose, low friction coefficient, extrusion withstanding.
N-009
Ptfe-oxides

blue

FDA
-268 +260
All pourpose on soft surfaces
N-031
Ptfe-bronze

green-blue

-268 +260
High wear resistance, hidraulic seals
N-032
Ptfe-carbon

black

-268 +260
High wear resistance, pneumatic and hydraulic seals
N-059
Ptfe-carbographite

black

-268 +260
High wear resistance, hydraulic and pneumatic seals, hard surfaces
N-197
Ptfe-carbographite

black

NORSOK
-268 +260
High wear resistance, hydraulic and pneumatic seals
N-043
Ptfe-graphite

black

FDA
-268 +260
High wear resistance, low friction coefficient.
N-103
Ptfe-carbon fibre

black

FDA
-268 +260
High wear resistance, low friction coefficient, hard surfaces.
N-077
Ptfe-glass fibre-MoS2

gray

-268 +260
Of general use, in lubricated applications, rotary seals
N-060
Ptfe-glass fibre

blue

FDA
-268 +260
All pourpose on hard surfaces
N-067
Ptfe-glass fibre

white

FDA
NORSOK
-268 +260
High wear and creep resistance
N-102
Ptfe-Liquid crystal polymer

beige

FDA - EU

-268 +260
Food & Pharma, soft surfaces
N-088
Ptfe-poliimmide

yellow

-268 +260
High wear resistance. Soft surfaces
N-074
PEHMW

white

FDA
-140 +80
High wear and extrusion resistance
P95-A252

Polyurethane

blue

FDA
-50 +105
Extrusion and wear withstanding, low friction coefficient

P95-VI251

Polyurethane

violet

FDA
-30 +115
CIP (clean in place) fluids compatible

P95-R198

Polyurethane

red
-30 +125
Extrusion and wear withstanding, low friction coefficient, high temperatures

P95-AR255

Polyurethane

orange
-30 +135
Extrusion and wear withstanding, low friction coefficient, higher temperatures
P95-G253
Polyurethane MoS

gray

-30 +105
Extrusion and wear withstanding, lower friction coefficient
---
CHOOSING Neuflon-ptfe compound ACCORDING WITH FLUID AND SURFACE
SURFACES
Steel HEC>=30-45
Temp. Mart. Inox Steel
Cast Iron HRB<=200
Steel HRC>=45
Cast Iron HRB>200
Galvanic or chemical surfacing HV>=700
Chromium Bronze
Bronze
Brass
Treated Aluminium
Aust. Inox Steel
Glass
FLUIDS
NEUFLON-ptfe compounds (standard in bold)
Hydraulic oil
Transmission oil
Fire resistant syntetic hydraulic oil
N-031
N-032 N-060 N-077 P95-A112
N-031
N-032 N-060 N-077 P95-A112
N-009
N-043 N-032 P95-A112
N-032
N-074 P95-A112
N-009
N-032 N-074 P95-A112
Water and oil/water emulsions
N-032
N-060 N-077 N-074
N-032
N-060 N-077 N-074
N-009
N-043 N-074
N-032
N-074
N-009
N-032 N-074
Drugs and food
N-009
N-102 N-020 N-043 N-060 N-074 N-088 P95-B113
N-009
N-074 P95-B113
N-102
N-009 P95-B113
N-009
N-074 P95-B113
N-009
N-074 P95-B113
Air
N-032
N-031 N-043 N-074 P95-A112
N-032
N-043 P95-A112
N-032
N-009 N-043 N-074 P95-A112
N-032
N-074 P95-A112
N-032
N-009 N-043 N-074 P95-A112
Steam
N-032
N-043
N-032
N-009
N-032 N-043
N-032
N-009 N-043
Acids and Bases
N-032
N-059 N-074
N-032
N-043 N-074
N-009
N-032 N-043 N-074
---
ELASTOMER ACCORDING WITH FLUID
| | |
| --- | --- |
| FLUID | ELASTOMER |
| HYDRAULIC OIL - TRANSMISSION OIL | NBR |
| FIRE RESISTANT SYNTETIC HYDRAULIC OIL | EPDM |
| WATER AND WATER/OIL EMULSIONS | NBR |
| FOOD AND DRUG | MVQ |
| AIR | NBR |
| STEAM | EPDM - FFKM |
| ACIDS AND BASES | FKM - FFKM |